October 24, 2014
I recently completed a new video installation titled Headlands : South as part of my ongoing Graduate Fellowship at the Headlands Center for the Arts. The piece takes coastal light, time, and my studio's south-facing window as its objects of study.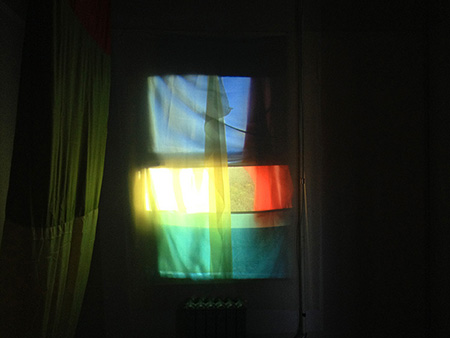 The video was created by photographing a shifting array of translucent color fabrics against my Headlands studio window throughout the day. The sequence was then edited into a short time-lapse loop and projected back toward the sealed window. The projection of light is reversed but the image of light streaming through the window remains. My aim is to probe ideas of 'reality,' check our pre-conceived expectations, and heighten awareness of our surrounding environment.
I describe this project as 'painting' with light — applied in layers and blended temporally to examine textural, spacial, and narrative realms. Its durational aspect is particularly suited to examining our malleable and fallible sense of time and visual perception.
Headlands : South is on view through the end of the month in my Headlands studio on the top floor of Bldg. 945, room 12. More about my residency can be found here.