September 4, 2014
Art Made Here is a series of community art workshops that Kelynn Alder and I have led
for a number of years. The bulk of them have taken place in Chiapas, Mexico, with the indigenous Mayan communities of the Lacandón jungle and the Central Highlands region. This year however we held the workshops in Mexico City at the renown Casa Luis Barragán with the help of our artist colleague Beka Peralta.
The Casa Barragán was designed by Mexican architect Luis Barragán, famed for his mastery of space and light. The building was constructed in 1948, serving as his house and studio till his passing in 1988. A radically vibrant take on mid-century International Style architecture, the structure was named a UNESCO World Heritage Site in 2004. Today the Casa Barragán is a museum that offers architectural tours, educational programs, and arts workshops.
For this round of workshops, Kelynn, Beka and I introduced the kids to working with recycled cardboard. Using boxes acquired from the local market, the group constructed sculptural masks and animals, many of them freestanding. The cardboard theme was inspired by my Handle With Care project with the California Academy of Sciences three years ago.
Our workshops took place over two days, attended by kids approximately 5 to 15 years of age. Many of them came from the public schools in the working class neighborhood surrounding Casa Barragán. One the first day, most kids opted to make elephants similar to the one I used for an introductory demo.
On the second day, Kelynn led a demo on constructing 3D dogs from slotted shapes. Like the elephant, it had great appeal as a 'pet' with the ability to stand. Numerous as the elephants and dogs were, each proved as unique as their creators' imagination.
As the kids gained confidence with cardboard, a diversified procession of creatures appeared: rhinos, bears, owls and whales, both flat and dimensional; some standing, some suspended, some held aloft on sticks. The objective was for each participant to take something home with them at the end of the day. Some managed two or three pieces per session.
Our hope is that kids will continue upcycling paper in creative ways well after leaving the workshop. Environmental themes have always been important to us, and we aim to build kids' awareness and appreciation for the natural world while encouraging innovation and resourcefulness.
Every workshop offers pleasant surprises and this time it was mask-making. Not originally on our agenda, masks entered the picture when we discovered that the boxes' pre-cut holes and handles resembled eyes and mouths. Our youngest participants enthusiastically embellished these panels and flaps to produce creatures of great personality without the need to draw or cut elaborate shapes.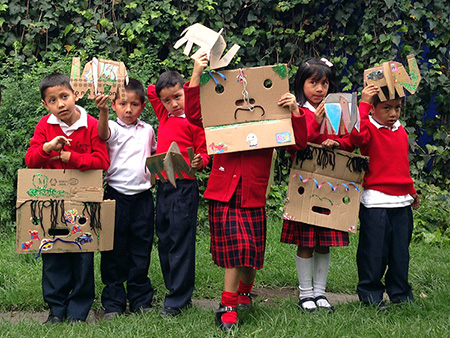 Many thanks to Beka for facilitating these sessions, and great appreciation to Casa Barragán director Catalina Corcuera for hosting us. Much gratitude also to Mimi Duke for her hospitality and participation. Additional images from this and past years' workshops can be seen at Art Made Here's gallery pages, and information about helping to support our program is here.