August 25, 2009
It's been a busy summer at the Imprint of the San Francisco Center for the Book. We're in high production gear on Gail Wight's residency edition and just wrapping up our two newest artist's book offerings: Rabbitpox by Allison Weiner and Bichos del Campo by Daniel González in time for their dual launch party this Friday.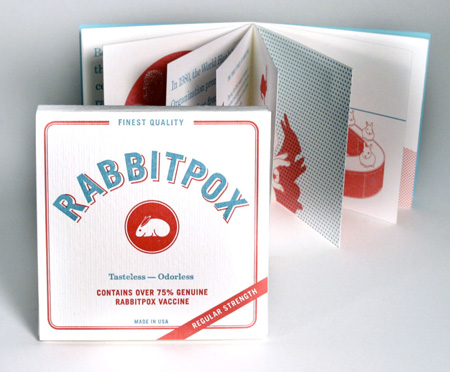 Rabbitpox and Bichos del Campo are the second and third titles in our 2009 Small Plates series, issued quarterly and limited to 100 signed and numbered copies each. This year's theme is anatomy, interpreted uniquely by each of our participating artists in a 4″ square letterpress-printed book format.
Rabbitpox, written and illustrated by Allison Weiner, casts rabbits as the heroes and the pawns in a tale of biological warfare. The story is inspired by a 2004 Harper's Magazine item describing American scientists as having engineered extra-lethal forms of mousepox, cowpox and, of course, rabbitpox. Allison's book combines text, inventive design, and diagrammatic illustrations with a whole lot of personality to find humor, absurdity, and alarm at the dark extremes of biological science.
The type in Rabbitpox was hand set in Century Schoolbook and printed on a Vandercook proof press by Allison, Katherine Case, Pam DeLuco and the Center's generous volunteers. Each book is housed in a handmade box and bound with thread spun by Pam from the fur of her pet rabbit Charisma, a white German Angora who reportedly had a show career.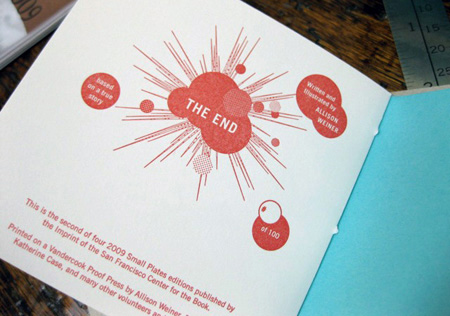 Allison is a Bay Area creative who studied at Stanford University, The San Francisco Art Institute, and the California College of the Arts. Rabbitpox is her first artist's book edition. It is Charisma's first foray into book arts as well.
Bichos del Campo is a bestiary of three Mexican folk tales re-told and illustrated by artist Daniel González. As the artist relates: "My work is inspired by the folk stories that my parents and grandparents have passed on. I have a desire to invent and share my own narratives and vision through printmaking. I want to be able to communicate through the image an invitation to tell a new story to be told or an old one to be remembered."
Bichos del Campo translates as Creatures of the Fields. Its introductory text and fables are illustrated in Daniel's signature linoleum block print style, delivering on the mood set in his preface: "If there was ever a setting where anything was possible, where the real and imagined can coexist, it would be in the ranchos of my grandparents. At night, the small flicker of the kerosene lamp was the only light for miles in a night filled with sounds. In these adobe homes, I learned that bees pray, snakes steal milk from cows, and some people fly in the shape of owls."
Daniel studied graphic design and printmaking at the California College of the Arts. He currently lives and works in Los Angeles where he served a two-year apprenticeship at La Mano Press before striking out on his own. He draws on his Mexican heritage and bicultural experiences in much of his artwork. "Culture is about change and growth," the artist explains, "I feel that it is my responsibility as an artist to be a vehicle for culture, to inspire a sensibility of the creative, to pierce the fence we have built to keep ourselves apart and to remind people of the common experience we share in life."
Bichos del Campo is letterpress-printed on Rives Heavyweight 175 gsm and bound in Bhutan Shawa covers. The binding was designed by Vi Thuc Ha.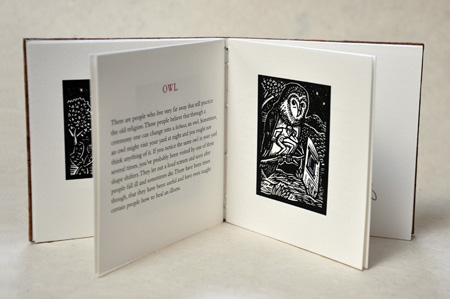 Many thanks to SFCB Letterpress Studio Manager Katherine Case, Bindery Manager Rhiannon Alpers, and our valued volunteers for their help in producing both Allison's and Daniel's editions.
Come help us celebrate our double launch event. The Imprint's previous editions will be on display too and available for purchase.
When: Friday, August 28 from 6-8 P.M.
Where: The San Francisco Center for the Book, 300 DeHaro Street (entrance on 16th Street) in Potrero Hill. 415-565-0545 | www.sfcb.org | imprint@sfcb.org
Stay tuned for news of Emory Douglas's Small Plates edition slated for production this fall. Please visit the Imprint page for more on the Center's publications and our Etsy page for sales.
3 Responses to "Imprint of the SFCB: Allison Weiner and Daniel González"